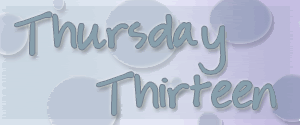 Thirteen Things on My Mind:
1. A storm is brewing outside
2. I need to make tamales
3. The dishwasher needs emptying
4. The weather is making the internet sporadic
5. I need to put up the new shower curtain
6. What will I post next?
7. I would like to go on a road trip through Western Colorado
8. Are the no-bake cookies cool enough to eat?
9. Will we have pizza for dinner?
10. I wonder who I'll be in five years...
11. I should not have had so much to eat
12. I love the overcast weather, but I wanted to sleep outside on the trampoline again tonight (like I did last night and the night before that).
13. Why don't I like being around people 'just to have fun'?
Get the Thursday Thirteen code here!
The purpose of the meme is to get to know everyone who participates a little bit better every Thursday. Visiting fellow Thirteeners is encouraged! If you participate, leave the link to your Thirteen in others' comments. It's easy, and fun!
Trackbacks, pings, comment links accepted!

View More Thursday Thirteen Participants